CB5500R 5.5kW Reverse Cycle Portable Air Conditioner
Retail Rental per Week (Excl GST)
Trade Rental per Week (Excl GST)
Inquiry for product
CB5500R 5.5kW Reverse Cycle Portable Air Conditioner
CB5500R 5.5kW Reverse Cycle Portable Air Conditioner
The CB5500R from Cool Breeze Rentals is the flagship model in a range of new generation, reverse cycle, portable air conditioners.
Featuring increased capacity without compromise. The CB5500R packs 5.5kW of capacity into our standard portable unit form factor, and plugs into a standard 10A power outlet.
Reverse Cycle functionality provides year round performance for all your portable, temporary, cooling and heating needs.
When you need higher capacity and versatility, the CB5500R portable air conditioner has got you covered.
The CB5500R is a robust, dual armed reverse cycle portable air conditioner. It's reliable and versatile design comes with a heating capacity of 5.5kW and a cooling capacity of 5.5kW.
Featuring coverage up to 55m² and a temperature setting range from 1°C to 38°C, the CB5500R is ideally suited to offices, workspaces, aged and health care, retail, events and manufacturing environments.
---
Features
Heating and Cooling modes
Up to 55m2 Coverage
LED Display
Twist On Arms
Condensate Pump (Additional Cost)
Optional HEPA Filter Kit (Additional Cost)
Spot Cooler Installation
The typical installation of a CB5500R portable air conditioner involves the installation of the exhaust duct into the roof space via a false ceiling tile. Alternatively the exhaust can be run out of a doorway or window. For spot
cooling/heating applications in open spaces duct is not required.
Call your nearest Cool Breeze Rentals branch on 1300 885 188 to discuss a solution to suit your on-site requirements.
Condensate pump kits* are available for the CB5500R. These are ideally suited where continuous operation is required,
or monitoring the machine and emptying of the condensate bucket is not possible.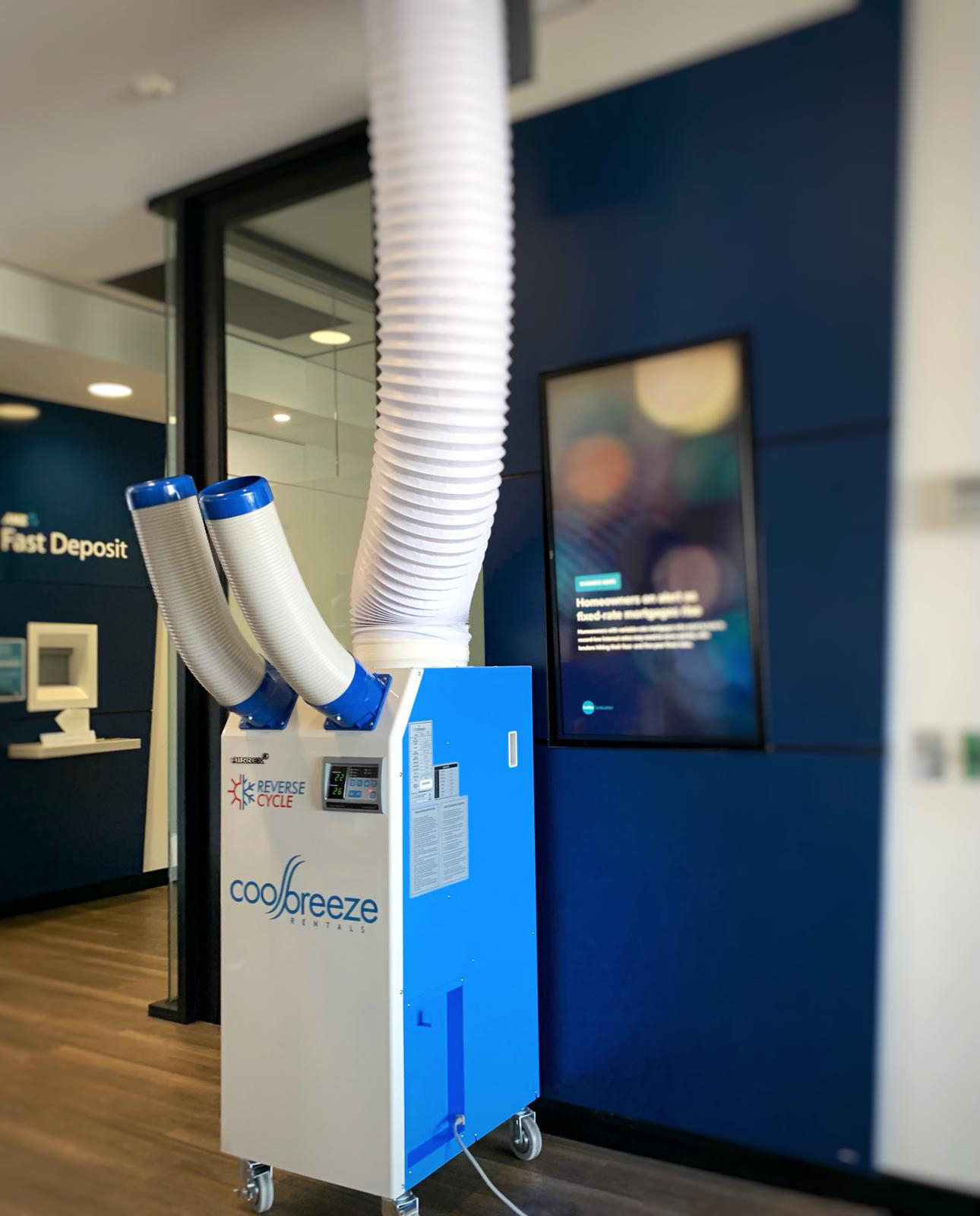 ---
Intelligent Digital Controller
Temperature control with room & spot functions
Cooling & heating modes
Fan speed control / 2X speeds
24-Hour timer function
Auto-resume after power outage
Self-diagnosis and error reporting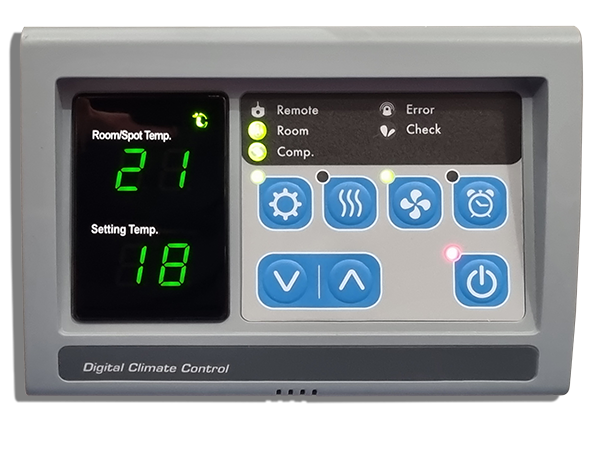 ---
HEPA Filter Kit
The optional CB5500H HEPA Filter Kit adds a medical-grade H13/MERV17 rated HEPA fi lter to the air intake of the CB5500R Air Conditioner. Filtering 99.97% of particles 0.3μm in diameter and 95% of particles 0.1μm in diameter.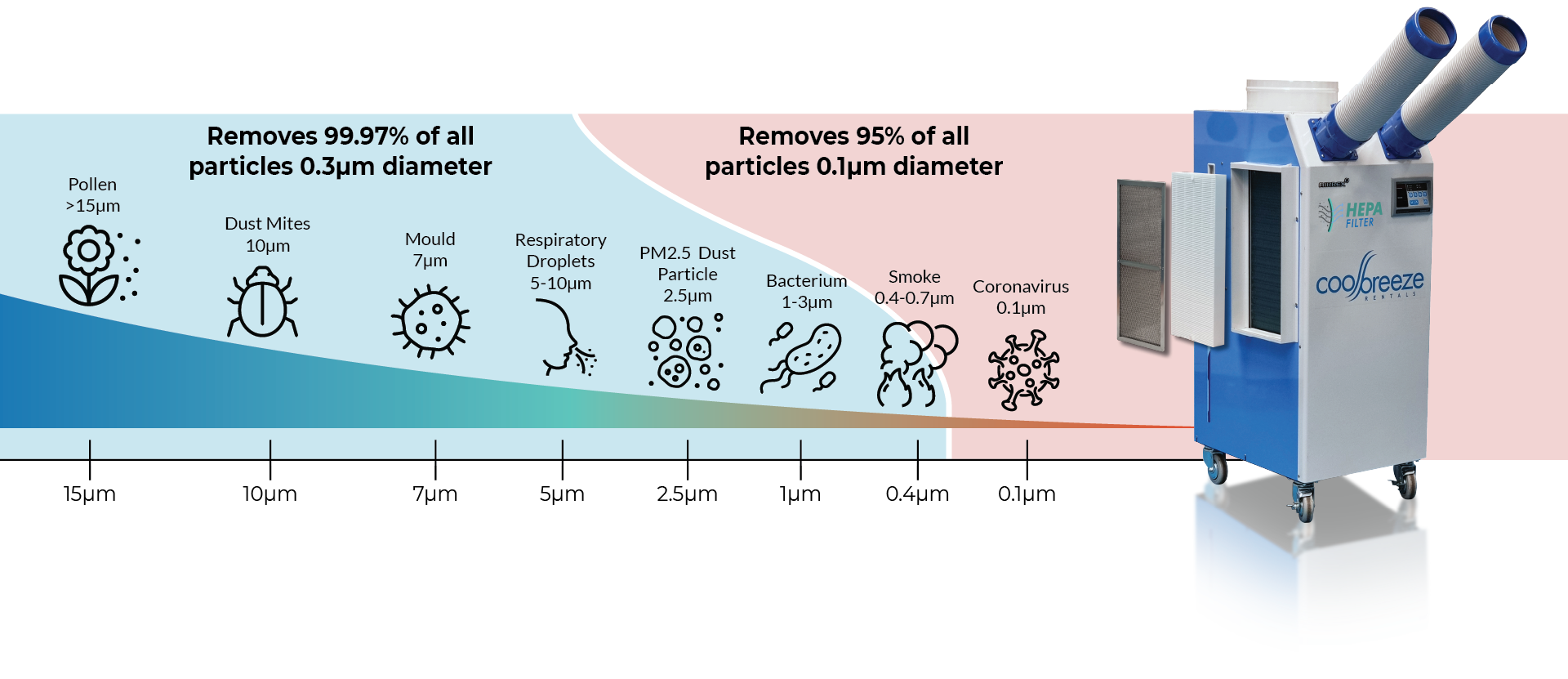 ---
Specifications
| | |
| --- | --- |
| Heating Capacity | 5.5kW |
| Cooling Capacity | 5.5kW |
| Power Supply | 240V/10A Single Phase |
| Current Consumption | 8.6A |
| Weight | 90kg |
| Dimensions | 496mm(W) x 677mm(D) x 1270mm(H) |
| Noise Level | 60dB[A] |
| Air Flow | 822m³/hour |
| Exhaust Duct Diameter | 300mm |